Zinc is the world's fourth most widely consumed base metal, used in established industrial sectors such as construction and automobiles to new markets like clean energy. Statistica show that approximately 13.8M metric tonnes of refined zinc metal were mined worldwide in 2021. The bluish-silver metal is regaining investor attention driven by the bright outlook of global demand thanks to its potential to become a critical green metal in a low-carbon economy.
How is zinc mined?
Globally, 80% of zinc ore worldwide is mined underground, while 8% is extracted from open-pit mines, with the rest of the 12% being mined through both techniques.
According to Britannica, the most common underground method of ore extraction during the zinc mining process is cut-and-fill stopping. Here, tunnels are dug to moderate depths, branching away from the mine portals.
Zinc production starts from a process called froth flotation. This involves having the ore crushed and ground, combined with water, into small mineral particles to form zinc sulphide concentrate. This is usually done at the mine site to keep transportation costs to smelters low.
The mixed concentrate will then be roasted or sintered and converted to zinc oxide. After that, the zinc oxide will be processed either through the hydrometallurgical or pyrometallurgical process where the metallic zinc is formed.
It's worth noting that when the sulphur contained in the zinc concentrate is oxidized, it will be purified and transformed into sulphuric acid, a crucial by-product of zinc production.
Uses of zinc
Zinc, a base metal with a relatively low melting point, is of abundant commercial and industrial importance. The metal has considerable resistance to ordinary atmospheres and corrodes at a much lower rate.
According to the International Lead and Zinc Study Group (ILZSG), zinc and lead are the two most widely used non-ferrous metals after aluminium and copper. This critical material is mainly used as a protective coating for other metals, such as steel and iron, to prevent corrosion. The metal also plays a crucial role in green technologies as zinc coatings prevent solar panels and wind turbines from rusting.
A large amount of zinc also goes to the production of die-castings, which are important in the automotive, electrical and hardware industries. In addition, zinc is consumed in nickel, silver, brass and bronze alloys.
Furthermore, zinc has become an essential material in a low-carbon economy. For instance, zinc-ion batteries are considered by some to be a safer, lower-cost alternative as they use water-based chemistry. Consequently, this results in the inability of fires in lithium-ion batteries in electric vehicles (EVs).
Could zinc batteries replace lithium-ion batteries?
As governments worldwide aim to reduce carbon emissions and dwindling lithium-ion supply, the prospects for zinc-based batteries look increasingly promising. This is further consolidated due to zinc battery's intrinsic safety, comparable energy density, long service life, and competitive cost in manufacturing.
Existing lithium-ion battery plants can scale up mass production of zinc-ion batteries since they can use the same manufacturing process and equipment.
In the long run, zinc-based batteries have competitive advantages in tackling the issue of lithium-ion shortage. However, lithium technology entered the market first with established consumer-brand loyalty. In addition, many investors are still recovering their returns from investments in lithium-ion battery facilities. Zinc-based batteries may not eclipse lithium-based batteries in the short term.
Where is zinc found?
According to Statista, China is the world's largest zinc producer, with 4.2M metric tonnes mined in 2021. Peru and Australia were the second and third-biggest zinc mining countries, producing 1.6M metric tonnes and 1.3M metric tonnes, respectively.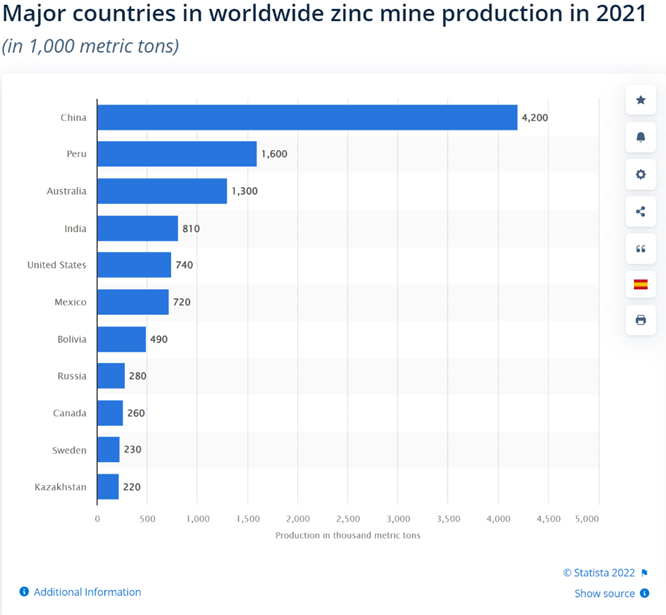 The graph above also shows that India, the U.S., and Mexico have similar capacities in zinc production. Other notable countries that mine the base metal include Bolivia, Russia, Canada, and Sweden.
Largest zinc mining companies
Glencore Plc (LSE: GLEN)
An Anglo-Swiss multinational natural resource company headquartered in Baar, Switzerland, and the world's largest zinc producer. The company owns several zinc mines worldwide, including Mount Isa Zinc Mine in Queensland, Australia, the McArthur River Mine in Northern Territory, Australia, and the Antamina Mine in Ancash, Peru.
Vedanta Limited (NYSE: VEDL)
An India-based mining company with a diverse list of operations in the natural resources field including oil & gas, zinc, lead, silver, copper, iron ore, and steel.
The company owns the world's second-largest zinc mine Rampura Agucha Mine, which is operated by its subsidiary Hindustan Zinc. Other lead-zinc mines Vedanta owns in India include Rajpura Dariba, Sindesar Khurd, Zawar and Kayad.
Teck Resources (NYSE: TECK)
A leading mining company headquartered in Vancouver, Canada, focused on copper, zinc, gold, silver, and investments in energy assets. The company holds the Alaskan Red Dog Mine. This was the largest zinc mine in 2019 in terms of production volume.
Zijin Mining (HKG: 2899)
A large multinational mining group engaged in the exploration and development of zinc, copper, gold and battery metals worldwide based in Shandong province, China.
The company operates domestic and overseas zinc mines, including the Miaogou/Sanguikou lead-zinc mine in Inner Mongolia, Wulagen Lead-Zinc Mine in Xinjiang Province, and Kyzyl-Tash Turk Zinc Polymetallic Mine in Russia, as well as the Bisha Zinc-Copper Mine in East Africa.
Industrias Peñoles (BMV: PE&OLES)
A Mexico-based company engaged in business segments including precious metals, base metals, and metallurgical. The company is one of the largest zinc and sodium sulphate producers worldwide. It is also one of the world's major producers of refined silver, lead, and gold.
Nexa Resources (NYSE: NEXA)
The São Paulo-based company is one of the world's largest producers of zinc, copper and lead, with operations in Brazil and Peru. The company owns 100% interest in the Vazante zinc-lead-silver mines and the Cerro Lindo Mine.\
Hecla Mining Company (NYSE: HL)
The largest primary silver producer in the United States. The company owns America's largest silver mine – the Greens Creek Mine in Alaska – with abundant resources including zinc, gold and lead, and Lucky Friday, an Idaho-based, silver-lead-zinc mine.
Silvercorp Metals (TSX: SVM)
A Canadian-based mining company concentrating on the acquisition, exploration, and development of precious metals in China, including silver, zinc and lead.
The company owns several silver-zinc-lead underground mines in the Ying Ming district of Henan province, the BYP Mine in Hunan Province, and the GC Mine in Guangdong province.
Zinc supply
According to the International Lead and Zinc Study Group (ILZSG), world zinc mine production is forecast to rise by 3.9% to 13.28M tonnes in 2022, a marginal decline from the 4.1% growth in 2021.
S&P Market Intelligence reported that almost half of the world's top 20 zinc producers recorded double-digit percentage losses in the first-quarter output year-over-year in 2022, a significant production shortfall.
In November 2021, Glencore closed its 100,000-tonne-per-year Portovesme smelter in Italy until "a meaningful change in power market prices". Nyrstar also placed its Auby smelter in France on care and maintenance last December, citing a similar reason. However, operations resumed in January 2022 at a reduced capacity.
Europe accounts for around 12% of global refined zinc output, as stated by Yahoo Finance, but zinc availability on the European continent has been hammered recently due to the energy crisis triggered by the Russia-Ukraine war as well as a supply disruption. Consequently, this galvanized zinc prices on the London Metal Exchange (LME) when the three-month zinc price shot up to US$4,460 on 13 April 2022.
Furthermore, worry about labour disputes has hampered copper output in Peru (the world's second-largest zinc producer), which may spill over to zinc mines. Ultimately deepening the fear of a future supply shortage.
Although the bar chart below showcased that large miners worldwide have boosted zinc production during the first quarter of 2022. However, S&P Global Market Intelligence still estimates that the world could face 321,000 tonnes of zinc deficit in 2022.
Fitch Solutions also predicts China's annual refined zinc production balance to average a 196,000-tonne surplus from 2026 to 2031 compared with a deficit of 292,000 tonnes from 2016 to 2022, which will make the country a significant supplier of zinc.
Most market analysts also predict new zinc supply is expected to come from regions including Central and South America, Eastern Europe, and Africa.
Zinc demand
The International Lead and Zinc Study Group (ILZSG) projects that after a strong post-pandemic recovery of 5.7% in 2021, global demand for refined zinc metal is forecast to rise by merely 1.6% to 14.26M tonnes in 2022.
China, a significant zinc importer, witnessed imports slump by 75% to 43,400 tonnes during the first four months of 2022, according to Reuters. CRU Group expects China's zinc demand growth will slow to only 1.1% year-on-year in 2022.
When we compare the supply and demand of zinc in 2022, estimated by ILZSG, zinc demand will outpace production growth this year. However, looking forward, the bluish-silver metal has a bright outlook. The use of zinc in the rechargeable battery sector is expected to surge.
The International Zinc Association (IZA) estimates that the market share of zinc-ion batteries will climb from 1% in 2021 to 5% in 2025, and 20% in 2030.
Meanwhile, Statista also expects global zinc demand for renewable energy technologies will continue to increase during the next decade, from 109,300 metric tonnes in 2020 to 364,000 in 2030. Solar energy is anticipated to account for the largest share of zinc consumption, with a forecast volume of 162,000 metric tonnes in 2030.
What is the future of zinc?
Considering all the data analysis and prediction of zinc prices, as well as supply and demand conducted by organizations such as ILZSG, Reuters, S&P Market Intelligence, the price trend of zinc could continue to face volatility.
The unprecedented energy crisis in Europe, soaring inflation, and the looming threat of global economic recession may weigh on zinc price performance. Still, the fundamentals of the base metal remain strong.
If you want to follow more developments on this resource, head to our zinc mining news page for the latest information globally.